I know I can't believe that its that time again!!! Time to get cards ready to be sent out in time for Christmas. I love this time, it's the excuse I use every year to get a family picture taken. As you can see I have started to build my Shutterfly photo cards and am truely excited to see them delivered so I can share this awesome card with everybody. Right now they are hosting a ton of deals on picture products that are great for Christmas! These calendars are great for a snap shot all year round! You can be your most creative either with existing pictures or the chance to take more pictures just for these gift ideas!
http://www.shutterfly.com/calendars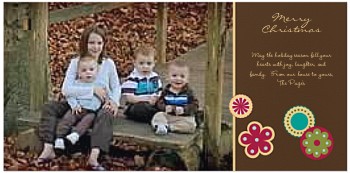 Christmas Cookies Christmas

If you like this card try building your own at Shutterfly
http://www.shutterfly.com/cards-stationery
It's super fun and easy. If you like story cards you can try your hand at one of your very own with this link:
http://www.shutterfly.com/cards-stationery/holiday-story-cards
For those blog friendly people there is a link just for you!
Bloggers get 50 free holiday cards from Shutterfly. Learn more:
http://bit.ly/sfly2010
I swear there are so many good designs this year that I can't choose my favorites
just check out this good design
If I could possibly decide on just one design and get my order in I could get my pictures out first thing in December and that is so on my too do list now!